Introduction
'Adhesives and Sealants Intelligence Hub' is a one-stop solution for all the market intelligence you will ever need in the Adhesives and Sealants industry. The solution helps executives, product managers, strategic planners, suppliers, and distributors uncover potential within niche segments and understand competitive positioning.
In its entirety, the Hub provides an in-depth market analysis of adhesives and sealants through a granular analysis of country-level data supported by a repository of market data, trends, and expert analysis. Data and Insights are available in the form of comprehensive reports as well as excel based data workbooks.
Adhesives and Sealants Intelligence Hub : Total number of reports : 73
Global Adhesives Market
Global Sealants Market
United States Adhesives Market
Canada Adhesives Market
Mexico Adhesives Market
Germany Adhesives Market
France Adhesives Market
United Kingdom Adhesives Market
Italy Adhesives Market
Spain Adhesives Market
Russia Adhesives Market
China Adhesives Market
India Adhesives Market
Japan Adhesives Market
South Korea Adhesives Market
Thailand Adhesives Market
Indonesia Adhesives Market
Malaysia Adhesives Market
Singapore Adhesives Market
Australia Adhesives Market
Brazil Adhesives Market
Saudi Arabia Adhesives Market
South Africa Adhesives Market
United States Sealants Market
Canada Sealants Market
Mexico Sealants Market
Germany Sealants Market
France Sealants Market
United Kingdom Sealants Market
Italy Sealants Market
Spain Sealants Market
Russia Sealants Market
China Sealants Market
India Sealants Market
Japan Sealants Market
South Korea Sealants Market
Thailand Sealants Market
Indonesia Sealants Market
Malaysia Sealants Market
Singapore Sealants Market
Australia Sealants Market
Brazil Sealants Market
Saudi Arabia Sealants Market
South Africa Sealants Market
Global Epoxy Adhesive Market
APAC Epoxy Adhesive Market
Europe Epoxy Adhesive Market
Global Polyurethane Adhesives Market
APAC Polyurethane Adhesives Market
Europe Polyurethane Adhesives Market
Global Cyanoacrylate Adhesives Market
APAC Cyanoacrylate Adhesives Market
Europe Cyanoacrylate Adhesives Market
Global EVA Adhesives Market
APAC EVA Adhesives Market
Europe EVA Adhesives Market
Global Acrylic Adhesives Market
APAC Acrylic Adhesives Market
Europe Acrylic Adhesives Market
Global Construction Adhesives & Sealants
APAC Construction Adhesives & Sealants
Europe Construction Adhesives & Sealants
North America Construction Adhesives & Sealants
United States Construction Adhesives & Sealants
Middle East & Africa Construction Adhesives & Sealants
Global Automotive Adhesives & Sealants
APAC Automotive Adhesives & Sealants
Europe Automotive Adhesives & Sealants
North America Automotive Adhesives & Sealants
Middle East & Africa Automotive Adhesives & Sealants
Global Aerospace Adhesives & Sealants
Global Silicone Adhesives & Sealants Market
Global Silicone Sealants Market
200,000+ Reasons to Work With Us
200,000+ Data points published on Adhesives and Sealants industry
73 Reports at geography and segment level
21 Product/technology and end-user segments
22 Countries from 5 regions
40+ Companies with country-level market shares
Crisp, insightful analysis
Our focus is NOT on word count. We present only the key trends impacting the market, so you don't waste time finding a needle in the haystack.
True Bottom-Up Approach
We study the industry, not just the market. Our bottom-up approach ensures we have a broad and deep understanding of the forces that shape the industry.
Exhaustive Data
Tracking a million data points on the adhesives and sealants industry. Our constant market tracking covers over 1 million+ data points spanning over 25 countries and over 100 companies just for the adhesives and sealants industry.
Convenience
Tables belong in a spreadsheet. We don't stuff our reports with data tables. We, like you, find a spreadsheet better suited for data evaluation. Each of our reports comes with an excel document that contains all data used in analyzing the market.
Transparency
Know where your data comes from. Most market reports today hide the sources used behind the veil of a proprietary model. We proudly present them so you can trust our information.
Topics Covered
Market Estimates
Historical, Current, & Forecasted Demand Analysis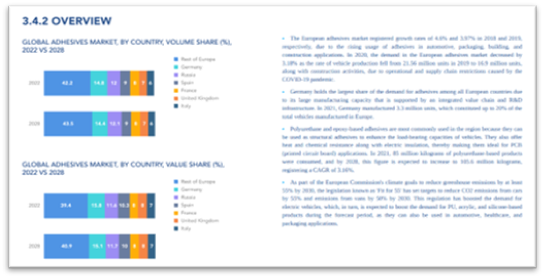 Broken Down into Multiple Segments and Sub-segments Based on Resin, Technology, and End-users
Regional and Country Demand Forecast
Market Trends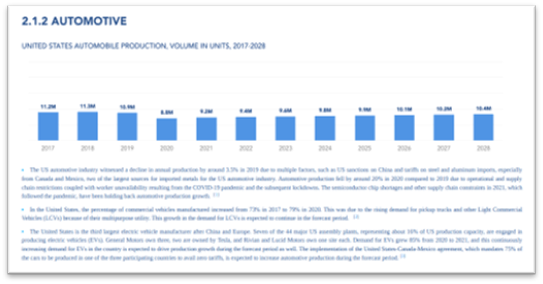 Quantitative Analysis and Statistics on the Most Important Structural Trends Shaping the Adhesives and Sealants Markets, such as: Automobile Production, Packaging Volume, New Construction Floor Area, Footwear Production, Aircraft Deliveries, etc.
Market Structure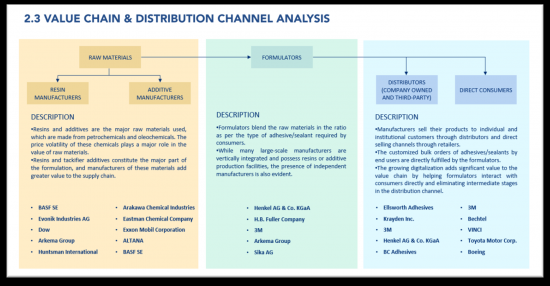 Industry Value Chain with Mapping of Key Players at Each Stage
Competitive Landscape
Detailed Profiles and Market Share of Top Companies at Individual Country and Regional Levels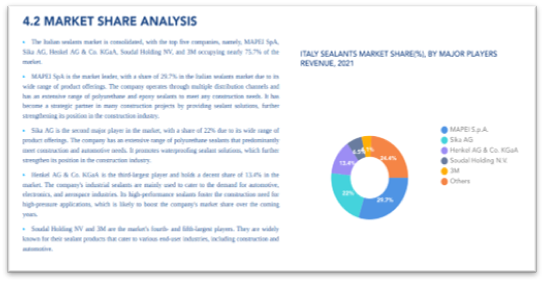 Mapping Key Strategic Moves and Recent Developments of Top Players
Resins Covered
Polyurethane
Epoxy
Acrylic
Cyanoacrylate

VAE/EVA
Silicone
Other Resins
Adhesive Technologies Covered
Water-borne
Solvent-borne
Reactive

Hot Melt
UV Cured Adhesives
End-user Industries Covered
Adhesives
Building and Construction
Packaging
Automotive
Aerospace

Woodworking and Joinery
Footwear and Leather
Healthcare
Other End-user Industries
Sealants
Building and Construction
Automotive
Aerospace

Healthcare
Other End-user Industries
Geographies Covered
Americas

United States
Canada
Mexico
Rest of North America
Brazil
Argentina
Rest of South America

Europe

Germany
France
United Kingdom
Italy
Spain
Russia
Rest of Europe

MEA

Saudi Arabia
South Africa
Rest of Middle East & Africa

APAC

China
India
Japan
South Korea
Thailand
Indonesia
Malaysia
Singapore
Australia
Rest of Asia-Pacific
100+ Companies Analyzed
Global Companies
Henkel AG & Co. KGaA
H.B. Fuller Company
3M
Arkema Group
Sika AG
Dow
MAPEI S.p.A.

Soudal Holding N.V.
Wacker Chemie AG
Huntsman International LLC
RPM International Inc.
DuPont
PPG Industries, Inc.
Saint-Gobain
Regional Companies
Illinois Tool Works Inc.
THE YOKOHAMA RUBBER CO., LTD.
Parker Hannifin Corp
Franklin International
DELO Industrie Klebstoffe GmbH & Co. KGaA
Permabond LLC.
Master Bond Inc.
Pidilite Industries Ltd.
AVERY DENNISON CORPORATION
Jowat SE
Beardow Adams
ASTRAL ADHESIVES
Selic Corp Public Company Limited.
Technical Adhesives
Dymax
Gorilla Glue, Inc.
Follmann Chemie GmbH
DEXTONE INDONESIA

KLEBCHEMIE M. G. Becker GmbH & Co. KG
Niasa México, SACV
Bolton Adhesives
Hermann Otto GmbH
DUNLOP ADHESIVES (THAILAND) CO., LTD.
Star Bond (Thailand) Company Limited
RusTA LLC
Kiilto
ASCOTT GROUP
Jubilant Industries Ltd.
Kangda New Materials (Group) Co., Ltd.
Hubei Huitian New Materials Co. Ltd
Beijing Comens New Materials Co., Ltd.
Mohm Chemical Sdn. Bhd.
Syarikat Chemibond Enterprise Sdn Bhd
VITAL TECHNICAL SDN BHD
Unitech Co., Ltd
BURIM CHEMICAL CO., LTD
200+ Experts Interviewed
Manufacturers

CxOs
VPs and Directors
Production/ Plant Managers
Product Development Managers
Sales Managers
Technicians

Suppliers
End-users
Associations
Consultants
"The supply of cost-effective silica sand to make the silicone bases will impact hugely on the silicone sealants market, as the same silica sand goes into the glass, computer chips, plastics, and many things besides sealants." CEO, Fixtech Adhesive Sealants Group, Australia.
"Food, pharma, sanitary, and healthcare sectors are the major hotspots in the adhesives industry. Also, the major factors that will impact the overall industry are the global supply chain disturbance, rising crude oil prices, and other raw material prices." Technical Director, New Era Adhesive Industries, India.
Data and Analysis
All Numbers in One Datasheet; All Analysis in an Easy-to-Navigate Report.
Adhesives and Sealants Market Framework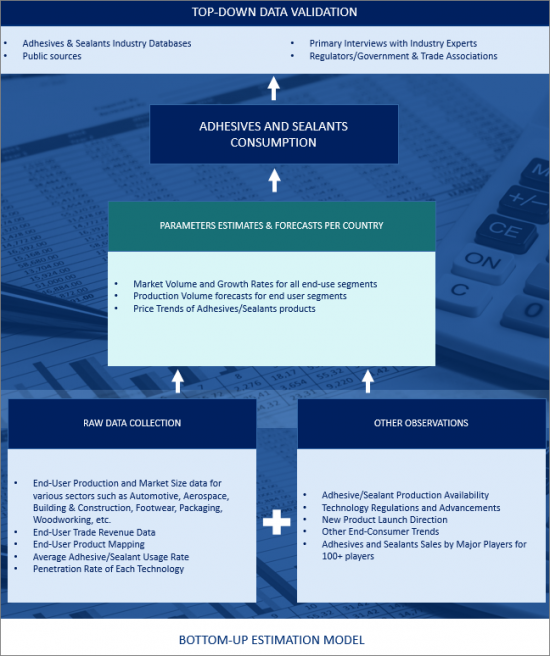 Portfolio of Adhesives & Sealants Market Solutions
1. MARKET STRUCTURE ASSESSMENT
Macroeconomic analysis
Value chain and supply chain analysis
Regulatory assessment
Technology scouting and assessment*
Sourcing and category intelligence
2. MARKET INTELLIGENCE SUPPORT
Market size and segmentation
Growth opportunities
Market dynamics and new developments*
Go to market strategies
3. COMPETITIVE INTELLIGENCE
Company profiling
Competition assessment incl. market share
Drilled down revenue estimations
Employer value proposition
4. DATA COLLECTION AND ANALYSIS SUPPORT
Data analytics and visualization
Data collection, manipulation incl. web scraping
B2B and B2C surveys and interviews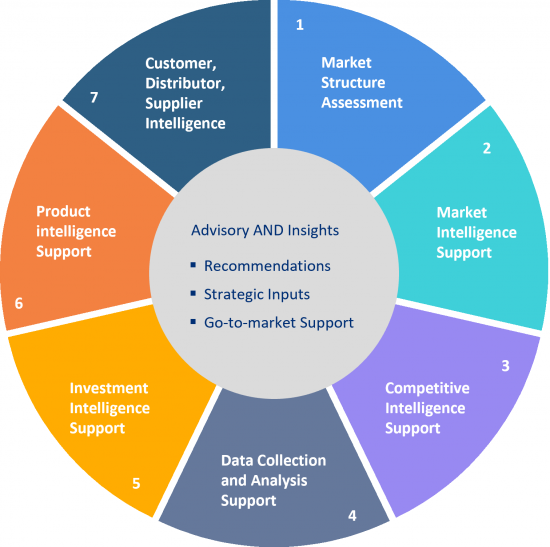 5. INVESTMENT INTELLIGENCE SUPPORT
Project feasibility analysis
R&D and patent analysis support
M&A, JV support - scouting, shortlisting, and target assessment
6. PRODUCT INTELLIGENCE SUPPORT
Import and export intelligence*
Commodity pricing intelligence*
Product pricing intelligence*
Product positioning assessment
New product launch tracker*
Product claims assessment*
Product concept testing
7. CUSTOMER, DISTRIBUTOR, SUPPLIER INTELLIGENCE
Identification of potential partners
Shortlisting/finalization of potential partners
Customer need analysis
Customer's purchase and usage behavior
Customer/partner feedback and satisfaction*
Brand perception analysis*
Key opinion leader insights
*Available as one time effort as well as in the form of periodic updates.