Introduction
'The Agricultural Biologicals Intelligence Hub' is a one-stop solution for all the market intelligence you will ever need in the agricultural biologicals industry. The solution helps executives, product managers, strategic planners, suppliers, and distributors uncover potential within niche segments and understand competitive positioning.
In its entirety, the Hub provides an in-depth market analysis of various agricultural biologicals inputs through a granular analysis of country-level data supported by a repository of market data, trends, and expert analysis. Data and Insights are available in the form of comprehensive reports as well as excel based data workbooks.
Agricultural Biologicals Intelligence Hub : Total number of reports : 61
Global Agricultural Biologicals Market
Global Organic Fertilizer Market
Global Biofertilizer Market
Global Biostimulants Market
Global Biopesticides Market
Global Biocontrol Agents Market
Global Rhizobium Market
Global Azotobacter Market
Global Mycorrhiza Market
Global Biofungicides Market
Global Bioinsecticides Market
North America Agricultural Biologicals Market
North America Organic Fertilizer Market
North America Biofertilizer Market
North America Biostimulants Market
North America Biopesticides Market
North America Biocontrol Agents Market
Europe Agricultural Biologicals Market
Europe Organic Fertilizer Market
Europe Biofertilizer Market
Europe Biostimulants Market
Europe Biopesticides Market
Europe Biocontrol Agents Market
Asia-Pacific Agricultural Biologicals Market
Asia-Pacific Organic Fertilizer Market
Asia-Pacific Biofertilizer Market
Asia-Pacific Biostimulants Market
Asia-Pacific Biopesticides Market
Asia-Pacific Biocontrol Agents Market
South America Biofertilizer Market
South America Biostimulants Market
South America Biopesticides Market
Africa Biofertilizer Market
Africa Biostimulants Market
Africa Biopesticides Market
United States Agricultural Biologicals Market
United States Organic Fertilizer Market
United States Biofertilizer Market
United States Biostimulants Market
United States Biopesticides Market
United States Biocontrol Agents Market
China Agricultural Biologicals Market
China Organic Fertilizer Market
China Biofertilizer Market
China Biostimulants Market
China Biopesticides Market
China Biocontrol Agents Market
India Agricultural Biologicals Market
India Organic Fertilizer Market
India Biofertilizer Market
India Biostimulants Market
India Biopesticides Market
India Biocontrol Agents Market
Brazil Agricultural Biologicals Market
Brazil Organic Fertilizer Market
Brazil Biofertilizer Market
Brazil Biostimulants Market
Brazil Biopesticides Market
Brazil Biocontrol Agents Market
Vietnam Biofertilizer Market
Vietnam Biopesticides Market
46000+ Reasons to Work With Us
46,000+ Data points published on the agricultural biologicals industry
61 Reports at geography and segment level
31 Form, organisms and crop segments
100+ Companies with country-level market shares
Crisp, insightful analysis
Our focus is NOT on word count. We present only the key trends impacting the market, so you don't waste time finding a needle in the haystack.
True Bottom-Up Approach
We study the industry, not just the market. Our bottom-up approach ensures we have a broad and deep understanding of the forces that shape the industry.
Exhaustive Data
Tracking a million data points on the agricultural biologicals industry. Our constant market tracking covers over 1 million+ data points spanning 26 countries and over 100+ companies just for the agricultural biologicals industry.
Convenience
Tables belong in a spreadsheet. We don't stuff our reports with data tables. We, like you, find a spreadsheet better suited for data evaluation. Each of our reports comes with an excel document that contains all data used in analyzing the market.
Transparency
Know where your data comes from. Most market reports today hide the sources used behind the veil of a proprietary model. We proudly present them so you can trust our information.
Topics Covered
Market Estimates
Historical, Current, & Forecasted Demand Analysis.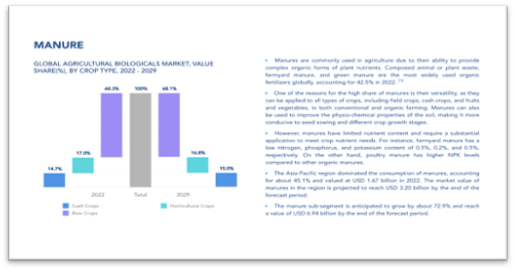 Broken Down into Multiple Segments and Sub-segments Based on Function, Type, Form, Organism, and Crop Type.
Regional and Country Demand Forecast.
Market Trends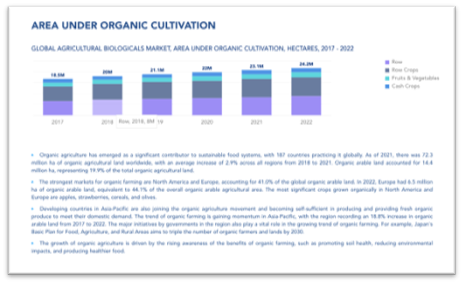 Quantitative Analysis and Statistics on the Most Important Structural Trends Shaping the Agricultural Biologicals Market, such as: Area Under Organic Cultivation and Per Capita Spending on Organic Products.
Market Structure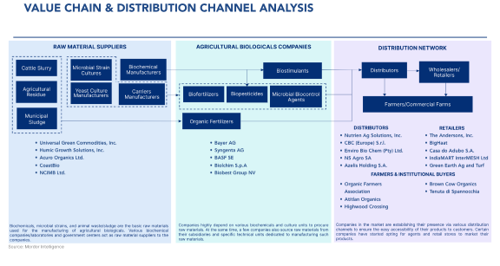 Industry Value Chain with Mapping of Key Players at Each Stage
Competitive Landscape
Detailed Profiles and Market Share of Most Active Companies at Individual Country and Regional Levels
Mapping Key Strategic Moves and Recent Developments of Most Active Players
Function, Type & Form Covered
Mordor Can Customize a Study to Specific Products, End-Users or Geographies
Crop Nutrition
Organic Fertilizer

Manure
Meal-based Fertilizers
Oilcakes
Other Organic Fertilizers

Biofertilizer

Rhizobium
Azospirillum
Azotobacter
Mycorrhiza
Phosphate Solubilizing Bacteria
Other Biofertilizers

Biostimulants

Humic Acid
Fulvic Acid
Amino Acid
Protein Hydrolysates
Seaweed Extracts
Other Biostimulants
Crop Protection
Biopesticides

Biofungicides
Bioinsecticides
Bioherbicides
Other Biopesticides

Biocontrol Agents
Organisms & Crop Types Covered
Organisms

Bacterial Biocontrol Agents
Fungal Biocontrol Agents
Other Microbials
Parasitoids
Predators
Entomopathogenic Nematodes

Crop Types

Row Crops
Horticultural Crops
Cash Crops
Geographies Covered
Americas

United States
Canada
Mexico
Rest of North America
Brazil
Argentina
Rest of South America

Europe

Germany
United Kingdom
France
Spain
Italy
Russia
Netherlands
Turkey
Rest of Europe

MEA

Iran
Saudi Arabia
Egypt
South Africa
Nigeria
Rest of Middle East & Africa

APAC

China
India
Japan
Australia
Indonesia
Vietnam
Thailand
Philippines
Rest of Asia Pacific
100+ Companies Analyzed
Humic Growth Solutions Inc.
Rallis India Ltd.
Southern Petrochemical Industries Corporation
Jaipur Bio Fertilizers
Volkschem Crop Science Private Limited
Central Biotech Private Limited
Sonkul Agro Industries
Kiwa Bio-Tech
Binzhou Jingyang Biological Fertilizer Co., Ltd.
Genliduo Bio-tech Corporation Ltd
Shandong Nongda Fertilizer Sci.&Tech. Co., Ltd (NDFY)
Shandong Sukahan Bio-Technology Co.,Ltd
Dora Agri-Tech
Qingdao Future Group
Haifa Group
Henan Jiyuan Baiyun Industry Co., Ltd.
Wuhan Taixin Biological Technology Co. Ltd
Beneficial Insectary, Inc
FMC Corporation
Microbial Biological Fertilizers International ltd
Adubasul
Vegalab SA
Mapleton Agri Biotec Pt. Ltd
Green Vision Life Sciences
Ezzy Bioscience Pvt. Ltd.

Dragonfli
Amruth Organic Fertilizers
Vipesco
APC Agro
Dai Nam Manufacturing & Trading Company Limited
Song Gianh Corporation Joint Stock Company
Dai Thanh Joint Stock Company
Prabhat Fertilizer And Chemical Work
Deepak Fertilisers & Petrochemicals Corp. Ltd.
The fertilizers and Chemicals Travancore Limited
Vittia Fertilizantes e Biológicos SA
Plantin
Promip Manejo Integrado de Pragas Ltda
Agrivalle Brasil Industria e Comercio de Produtos Agricolas S/A
Syngenta Protecao de Cultivos Ltda
Bio Controle - Metodos de Controle de Pragas Ltda
Rajshree Biosolutions Llp
Manidharma Biotech Private Limited
Agrifertil
Agro Bio-Tech Research Centre Ltd
Gujarat Narmada Valley Fertilizers & Chemicals Ltd.
Isagro S.P.A
King Biotec Corp
Swaroop Agrochemical Industries
75+ Experts Interviewed
Manufacturers

CxOs
BU Heads
VPs and Directors
Production/ Plant Managers
Product Development Managers
Agronomists
Sales Managers
Technicians

Distributors
Blenders
Associations
Consultants
"The 3 Big Things which will majorly impact the Agricultural Biologicals in Global market - 1. EU Farm to fork strategy; 2. Brazil field crops growth; 3. China domestic consumption" - Head of International Business, Certis Biologicals.
"Among all the agricultural biological products biostimulants are the widely used agricultural bioloigical product across the globe" - Senior Product Manager, Biostadt India Limited.
"The strategies companies will adopt post-Covid-19 in this industry are Communication about MRL, PHI and safety profiles of their products" - Head of International Business, Certis Biologicals.
Data and Analysis
All Numbers in One Datasheet; All Analysis in an Easy-to-Navigate Report.
Agricultural Biologicals Market Framework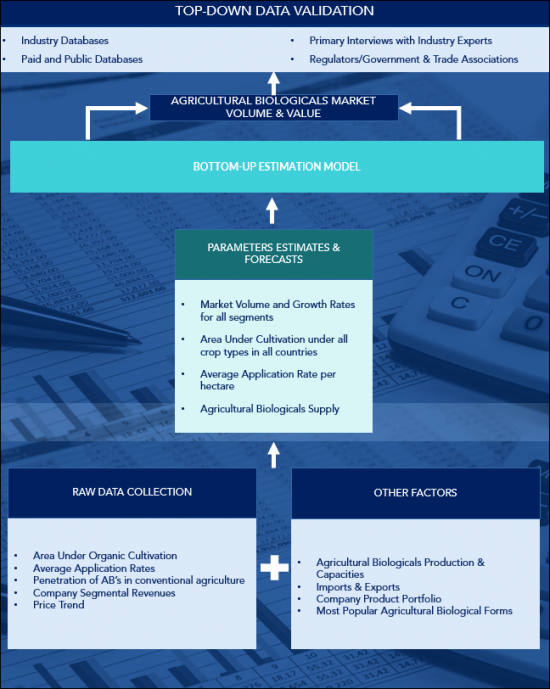 Portfolio of Agricultural Biologicals Market Solutions
1. MARKET STRUCTURE ASSESSMENT
Macroeconomic analysis
Value chain and supply chain analysis
Regulatory assessment
Technology scouting and assessment*
Sourcing and category intelligence
2. MARKET INTELLIGENCE SUPPORT
Market size and segmentation
Growth opportunities
Market dynamics and new developments*
Go to market strategies
3. COMPETITIVE INTELLIGENCE
Company profiling
Competition assessment incl. market share
Drilled down revenue estimations
Employer value proposition
4. DATA COLLECTION AND ANALYSIS SUPPORT
Data analytics and visualization
Data collection, manipulation incl. web scraping
B2B and B2C surveys and interviews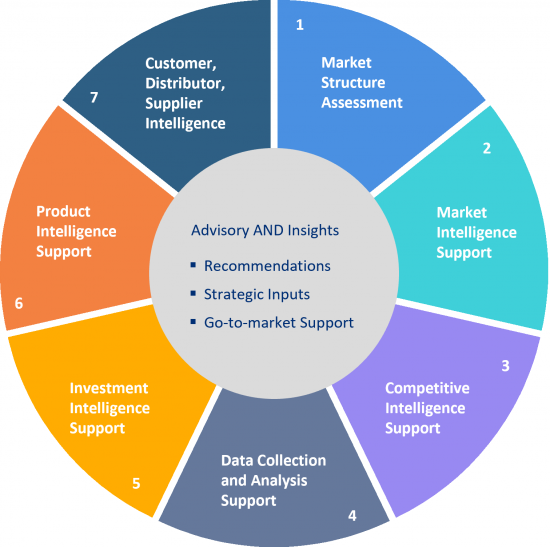 5. INVESTMENT INTELLIGENCE SUPPORT
Project feasibility analysis
R&D and patent analysis support
M&A, JV support - scouting, shortlisting, and target assessment
6. PRODUCT INTELLIGENCE SUPPORT
Import and export intelligence*
Commodity pricing intelligence*
Product pricing intelligence*
Product positioning assessment
New product launch tracker*
Product claims assessment*
Product concept testing
7. CUSTOMER, DISTRIBUTOR, SUPPLIER INTELLIGENCE
Identification of potential partners
Shortlisting/finalization of potential partners
Customer need analysis
Customer's purchase and usage behavior
Customer/partner feedback and satisfaction*
Brand perception analysis*
Key opinion leader insights
*Available as one time effort as well as in the form of periodic updates.