Introduction
'The Data Center Intelligence Hub' is a one-stop solution for all the market intelligence you will ever need in the industries of colocation data center. The solution helps executives, data center operators, strategic planners, and investors, uncover potential markets and understand competitive positioning.
In its entirety, the Hub provides an in-depth market analysis of data centers through a granular analysis of data for hotspots at a country-level supported by a repository of market data, trends, and expert analysis. Data and Insights are available in the form of comprehensive reports as well as excel based data workbooks.
60,000+ Reasons to Work With Us
60,000+ Data points published on data center
46 Reports at geography and segment level
22 Tier Type, DC Size, and Absorption Segments
39 Countries from 6 regions
460 Companies with country-level market shares
Crisp, insightful analysis
Our focus is NOT on word count. We present only the key trends impacting the market, so you don't waste time finding a needle in the haystack.
True Bottom-Up Approach
We study the industry, not just the market. Our bottom-up approach ensures we have a broad and deep understanding of the forces that shape the industry.
Exhaustive Data
Tracking a over million data points on the data center industry. Our constant market tracking covers over million data points spanning 39 countries and over 460 companies just for the data center industry.
Convenience
Tables belong in a spreadsheet. We don't stuff our reports with data tables. We, like you, find a spreadsheet better suited for data evaluation. Each of our reports comes with an excel document that contains all data used in analyzing the market.
Transparency
Know where your data comes from. Most market reports today hide the sources used behind the veil of a proprietary model. We proudly present them so you can trust our information.
Topics Covered
Market Estimates
Historical, current, & Forecasted Demand Analysis.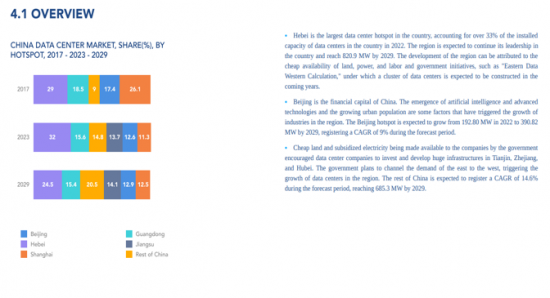 Broken Down into Multiple Segments and Sub-segments Based on Data Center Size, Tier Type, Colocation Type, and End Users.
Hotspots, Country, and Regional level Demand Forecast.
Market Trends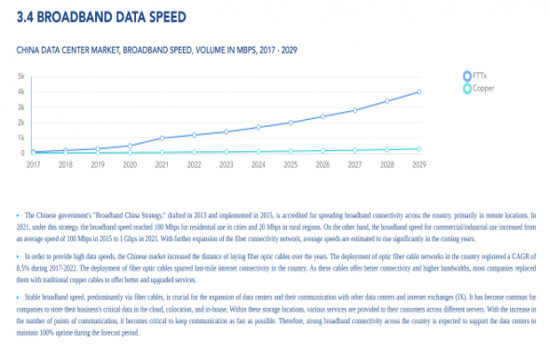 Quantitative Analysis and Statistics on the Most Important Structural Trends Shaping the Data Center Market, such as: Mobile and Broadband data speed and Fiber Connectivity Network.
Market Structure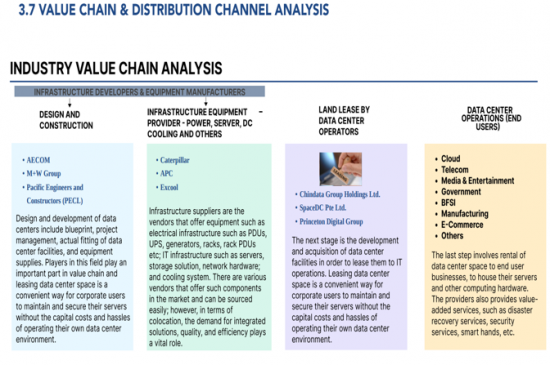 Industry Value Chain with Mapping of Key Players at Each Stage
Competitive Landscape
Detailed Profiles and Market Share of Top Companies at Individual Country and Regional Levels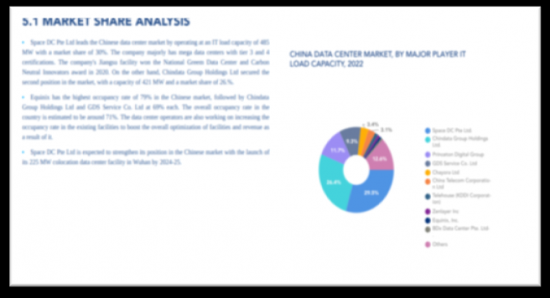 Mapping individual data center facility data and Recent Developments of Top Players
Types Covered
Data Center Size

Small
Medium
Large
Massive
Mega

Tier Type

Hotspot
On-Demand coverage available on types beyond the above list.
Data Center Utilization Covered:
Colocation Type

Retail
Wholesale
Hyperscale

End Users

BFSI
Cloud
E-Commerce
Government
Manufacturing
Media & Entertainment
Telecom
Other End Users
Geographies Covered
Americas

United States
Canada
Mexico
Rest of North America
Brazil
Chile
Rest of South America

Europe

Germany
United Kingdom
France
Spain
Italy
Russia
Netherlands
Poland
Austria
Belgium
Sweden
Norway
Switzerland
Ireland
Denmark
Rest of Europe

MEA

Saudi Arabia
UAE
Israel
Rest of Middle East
South Africa
Nigeria
Rest of Africa

APAC

China
India
Japan
Australia
Indonesia
Malaysia
South Korea
Singapore
Vietnam
Philippines
Taiwan
Hong Kong
New Zealand
Thailand
Rest of APAC
460+ Companies Analyzed
Major Data Center Companies
AirTrunk Operating Pty Ltd
Space DC Pte Ltd.
Equinix, Inc.
Chindata Group Holdings Ltd.
NTT Ltd.
STT GDC Pte Ltd
Keppel DC REIT Management Pte. Ltd.
Digital Realty Trust Inc.
KT Corporation
NEXTDC Ltd
Princeton Digital Group
Canberra Data Centers
Digital Realty Trust, Inc.
Vantage Data Centers, LLC
CyrusOne Inc.
Global Switch Holdings Limited
SOCIETE FRANCAISE DU RADIOTELEPHONE - SFR
Leaseweb Global B.V.
Stack Infrastructure, Inc.
Data4 Group
Telehouse (KDDI Corporation)
Switch Inc.
Quality Technology Services Realty Trust Inc.
Flexential Corp.
Cyxtera Technologies, Inc.
CoreSite (America Tower Corporation)
Edgecore (Partners Group)
Cologix, Inc.
Ascenty (Digital Realty Trust, Inc.)
ODATA (Patria Investments Ltd.)

Scala Data Centers
EdgeUno, INC.
GTD Grupo Teleductos S.A.
SONDA S.A.
Lumen Technologies, Inc.
Nxtra Data Ltd.
Quantico Data Center
NABIAX (Digital Data Center Bidco, S.L.)
Injazat Data Systems
Bynet Communications
Terremark (Verizon)
Teraco Data Environments (Digital Realty)
Africa Data Centres (Cassava Technologies)
GDS Service Co. Ltd
China Telecom Corporation Ltd
Rack center
Digital Parks Africa (PTY) LTD.
Business Connexion (Pty) Ltd.
Fujitsu Ltd.
GLP Pte Limited
Etihad Etisalat Company (Mobily)
Khazna Data Center
CtrlS Data Centers Ltd.
Etisalat
BDx Group
Chayora Ltd
EdgeConneX Inc.
Yotta Infrastructure Solutions
Sify Technologies Ltd.
Pi Data Centers Pvt Ltd.
50+ Experts Interviewed
Manufacturers

CxOs
BU Heads
VPs and Directors
Facility/Site Managers
Cloud Technologists
Sales Managers
Technicians

Rack Resellers
Agencies & Associations
Consultants
"Few big things which will majorly impact the Data Centers market are Digital Transformation, Cloud, OTT, Adaptation of AI. Furthermore, Lot of customers had their own server rooms or smaller data centers. During covid time it became very difficult for them to maintain and operate that data center. So, more and more people are moving towards colocation data center" - Chief Executive Officer, Data Center Guru.
"Uptime, connectivity, and accessibility, remains major factors to define success of a data center. Further, There is no change in the customer segment preferences owing to Covid-19. Operators are focusing on providing remote hand support to enable 24*7 support to clients" - Data Center Manager, NXTRA (Bharti Airtel)
Data and Analysis
All Numbers in One Datasheet; All Analysis in an Easy-to-Navigate Report.
Data Center Market Framework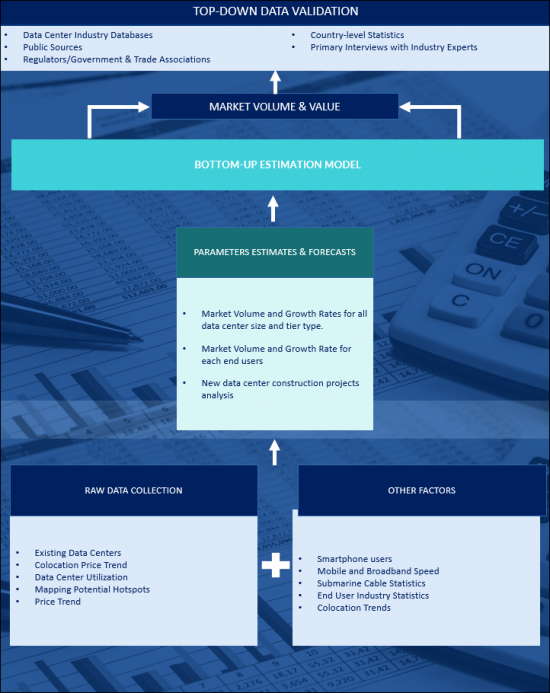 Portfolio of Data Center Solutions
1. MARKET STRUCTURE ASSESSMENT
Macroeconomic analysis
Value chain and supply chain analysis
Regulatory assessment
Technology scouting and assessment*
Sourcing and category intelligence
2. MARKET INTELLIGENCE SUPPORT
Market size and segmentation
Growth opportunities
Market dynamics and new developments*
Go to market strategies
3. COMPETITIVE INTELLIGENCE
Company profiling
Competition assessment incl. market share
Drilled down IT load capacity estimations
Employer value proposition
4. DATA COLLECTION AND ANALYSIS SUPPORT
Data analytics and visualization
Data collection, manipulation incl. web scraping
B2B surveys and interviews
5. INVESTMENT INTELLIGENCE SUPPORT
Project feasibility analysis
R&D and patent analysis support
M&A, JV support - scouting, shortlisting, and target assessment
6. DC FACILITY INTELLIGENCE SUPPORT
Existing DC facilities intelligence*
Rack pricing intelligence*
DC Tier assessment
New/Upcoming DC facility launch tracker*
Hotspot assessment*
7. CUSTOMER, DISTRIBUTOR, SUPPLIER INTELLIGENCE
Identification of potential partners
Shortlisting/finalization of potential partners
Customer need analysis
Customer's purchase and usage behavior
Customer/partner feedback and satisfaction*
Brand perception analysis*
Key opinion leader insights
*Available as one time effort as well as in the form of periodic updates.