Introduction
'Road Freight Transport Intelligence Hub' is a one-stop solution for all the market intelligence you will ever need in the Road Freight Transport industry. The solution helps executives, product managers, strategic planners, suppliers, and distributors uncover potential within niche segments and understand competitive positioning.
In its entirety, the Hub provides an in-depth market analysis of Domestic-International, Less than truckload-Full truckload, Short haul-Long haul, Solid goods-Liquid goods, Temperature controlled-Non temperature controlled, containerized-non containerized road freight transport through a granular analysis of country-level data supported by a repository of market data, trends, and expert analysis. Data and Insights are available in the form of comprehensive reports as well as excel based data workbooks.
Road Freight Transport Intelligence Hub: Total number of reports: 35
United States Road Freight Transport Market
Canada Road Freight Transport Market
Mexico Road Freight Transport Market
Germany Road Freight Transport Market
France Road Freight Transport Market
Spain Road Freight Transport Market
Russia Road Freight Transport Market
Italy Road Freight Transport Market
United Kingdom Road Freight Transport Market
Netherlands Road Freight Transport Market
Nordics Road Freight Transport Market
China Road Freight Transport Market
India Road Freight Transport Market
Australia Road Freight Transport Market
Japan Road Freight Transport Market
Vietnam Road Freight Transport Market
Malaysia Road Freight Transport Market
Indonesia Road Freight Transport Market
Thailand Road Freight Transport Market
Brazil Road Freight Transport Market
Saudi Arabia Road Freight Transport Market
North America Road Freight Transport Market
Europe Road Freight Transport Market
Asia Pacific Road Freight Transport Market
ASEAN Road Freight Transport Market
United States Full Truckload Road Freight Transport Market
United States Less than Truckload Road Freight Transport Market
China Full Truckload Road Freight Transport Market
China Less than Truckload Road Freight Transport Market
India Full Truckload Road Freight Transport Market
India Less than Truckload Road Freight Transport Market
United States Short Haul Road Freight Transport Market
ASEAN Cross Border RFT Market
Europe Cross Border RFT Market
North America Cross Border RFT Market
20,000+ Reasons to Work With Us
21,000+ Data points published on road freight transport industry
35 Reports and still counting
18 Product and end-user segments
20 Countries across 5 regions covered in 35 reports
380+ Companies analyzed with 175+ country-level market shares
Crisp, insightful analysis
Our focus is NOT on word count. We present only the key trends impacting the market, so you don't waste time finding a needle in the haystack.
True Bottom-Up Approach
We study the industry, not just the market. Our bottom-up approach ensures we have a broad and deep understanding of the forces that shape the industry.
Exhaustive Data
Tracking a million data points on the road freight transport industry. Our constant market tracking covers over 1 million+ data points spanning 20 countries and over 380 companies just for the road freight transport industry.
Convenience
Tables belong in a spreadsheet. We don't stuff our reports with data tables. We, like you, find a spreadsheet better suited for data evaluation. Each of our reports comes with an excel document that contains all data used in analyzing the market..
Transparency
Know where your data comes from. Most market reports today hide the sources used behind the veil of a proprietary model. We proudly present them so you can trust our information.
Topics Covered
Market Estimates
Historical, Current and Forecasted Market Size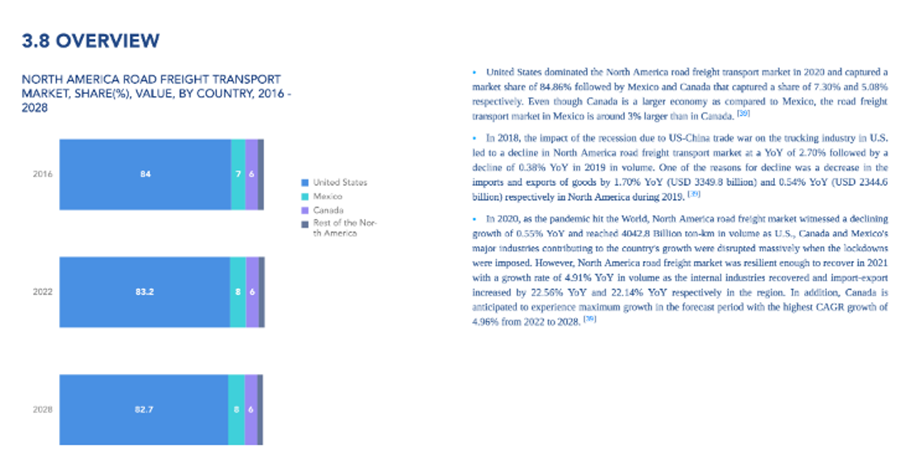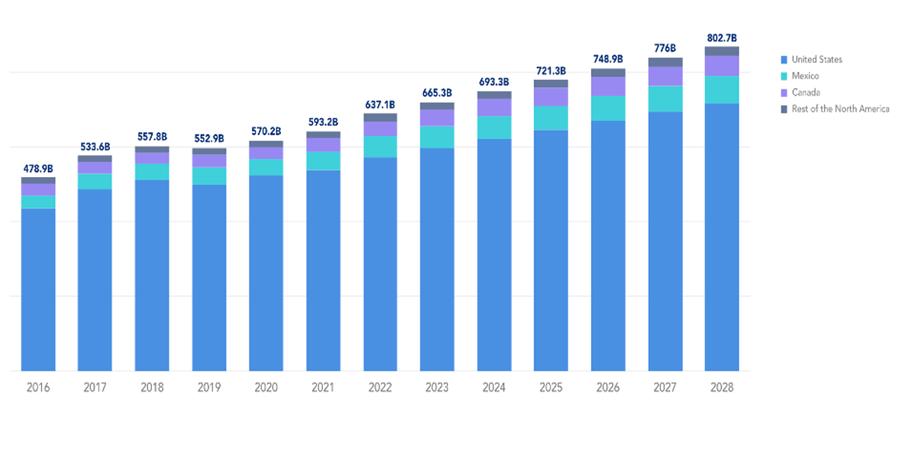 Broken down into multiple Segments and Subsegments based on Distance, Destination, Goods Type, Containerization, Truck Load Specification, Temperature Control and End User
Regional and Country Market Size and Forecasts
Market Trends
Quantitative Analysis and Statistics on the Most Important Structural Trends Shaping the Road Freight Transport Market, such as: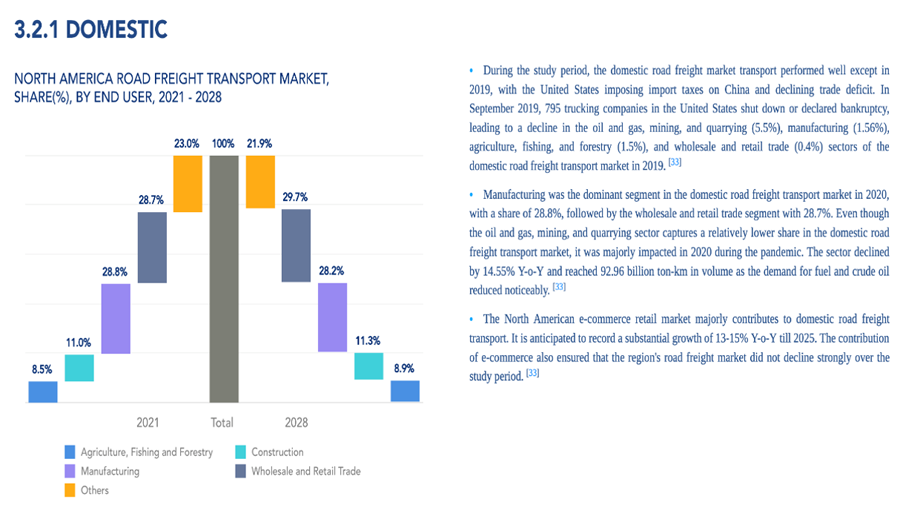 Transportation and Storage share of GDP, Wholesale Price inflationTruck Fleet Size by Type, Road Freight Transport Pricing Trends, Road Freight Transport Volume (Tonnage) Trends among others.
Global Analysis and Data Pack
Global Data points of important metrics across 20 countries and 5 Regions.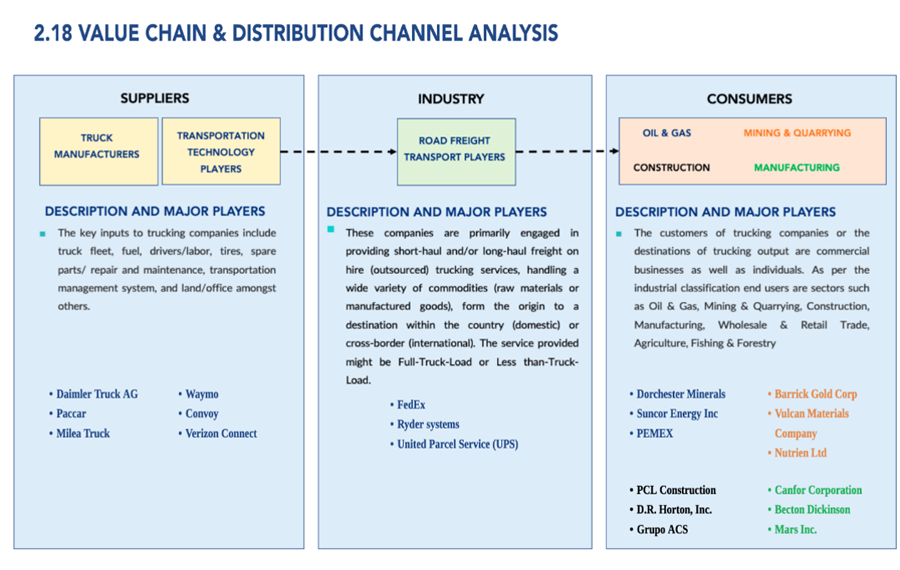 Qualitative analysis including Global Value Chain Analysis, Drivers-Restraints-Opportunities Analysis, Porter's Five Forces Analysis and other industry trends
Competitive Landscape
Detailed Profiles and Market Share of Top Companies at Individual Country and Regional Levels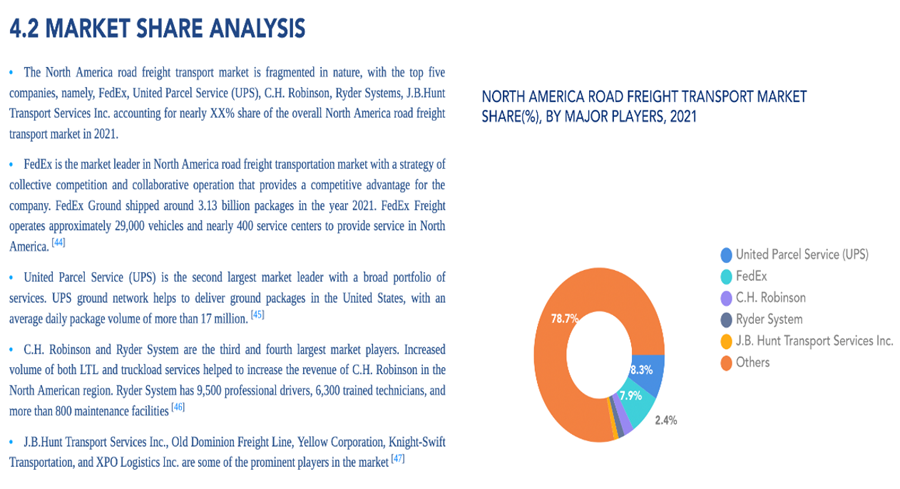 Mapping Key Strategic Moves and Recent Developments of Top Players
Crisp detailing of Key Information, Products and Services, Company Highlights
Market Segments
By Destination

By Truckload Specification

Full truckload
Less Than Truckload

By Containerization

Containerized
Non-Containerized

By Distance

By Product Type

By Temperature Control

Controlled
Non-Controlled
End Users Covered
Agriculture, Fishing and Forestry
Construction
Manufacturing

Oil and Gas, Quarrying and Mining
Wholesale and Retail Trade
Others
Regional Reports
North America
Europe
Nordics
Geographies Covered
North America

The United States
Canada
Mexico
Rest of the North America

Europe

Germany
The United Kingdom
France
Spain
Italy
Russia
Netherlands
Nordics
Rest of the Europe

Asia Pacific

China
India
Japan
Australia
Indonesia
Thailand
Malaysia
Vietnam
Rest of the Asia Pacific

Other Countries

Sub-Regional Reports

ASEAN

Indonesia
Thailand
Malaysia
Vietnam
Rest of the ASEAN

Nordics

Denmark
Finland
Iceland
Norway
Sweden
Rest of the Nordics
380+ Companies Analyzed
Global Major Trucking Companies
FedEx
DHL Group
United Parcel Service
XPO Logistics Inc.
Maersk
Ryder Systems
Yellow Corporation
Knight-Swift Transportation
J.B.Hunt Transport Services Inc.
Schneider
Landstar System Inc.
Old Dominion Freight Line
ArcBest
Kuehne + Nagel Nippon Express
Nippon Express
Bollore Logistics

Werner Enterprises Inc.
Mullen Group
Day & Ross
Ceva Logistics
DSV
DB Schenker
Raben Group
Dachser
Mainfreight
Expeditors
Rhenus Group
STEF
GEFCO
Sinotrans
Scan Global Logistics
Regional Trucking Companies
PS Logistics LLC
Fletes Mexico
Grupo Traxion
Transportes Marva
Cowtown Express
Fastfrate Group
Trans International Trucking
Lactalis Logistique
FM Logistic
Martin Brower
Primafrio
Seur Geopost SL
Trans Sese SL
Fercam SpA
Arcese Trasporti SpA
BRT SpA
TK MEGAPOLIS, AO
ITECO Corporation
PEK, OOO

DL-TRANS, LTD
Wincanton PLC
Howard Tenens
Gist Ltd
Turners (Soham) Limited
W H Malcolm Ltd
Gregory Distribution (Holdings)
Fowler Welch
Hoyer Petrolog UK
Kinaxia Logistics Limited
Simon Loos
Bakker Logistiek
Jan de Rijk Logistics
NTG Nordic Transport Group
Danske Fragtmaend
DFDS Logistics
Collicare Logistics AS
FREJA Transport
250+ Experts Interviewed
Logistics

C-Suite
BU Heads
VPs and Directors
Logistics Managers
Business Development Managers
Sales Managers

Market Experts
End-users
Industry Associations
Consultants
Distributors
Traders
Importers
"The three big things which will majorly impact global road freight transport market are 1. Rail & Waterways will always be viable options, 2. Infrastructure and security will be a constant threat 3. Fuel prices and costs."
"The following are the type of strategies companies will adapt to counteract the effects of COVID-19 in the sector are: 1. Recalibrate their supply chain 2. Flexibility at exploring options 3. Multi-carrier options."
"Expenditures that are specifically aimed at improving infrastructure without increasing consumer costs, hybrid warehousing models covering more market needs and transport fleet are the investment hotspots in this industry" - Director, DSV.
Data and Analysis
All Numbers in One Datasheet; All Analysis in an Easy-to-Navigate Report.
Road Freight Transport Market Framework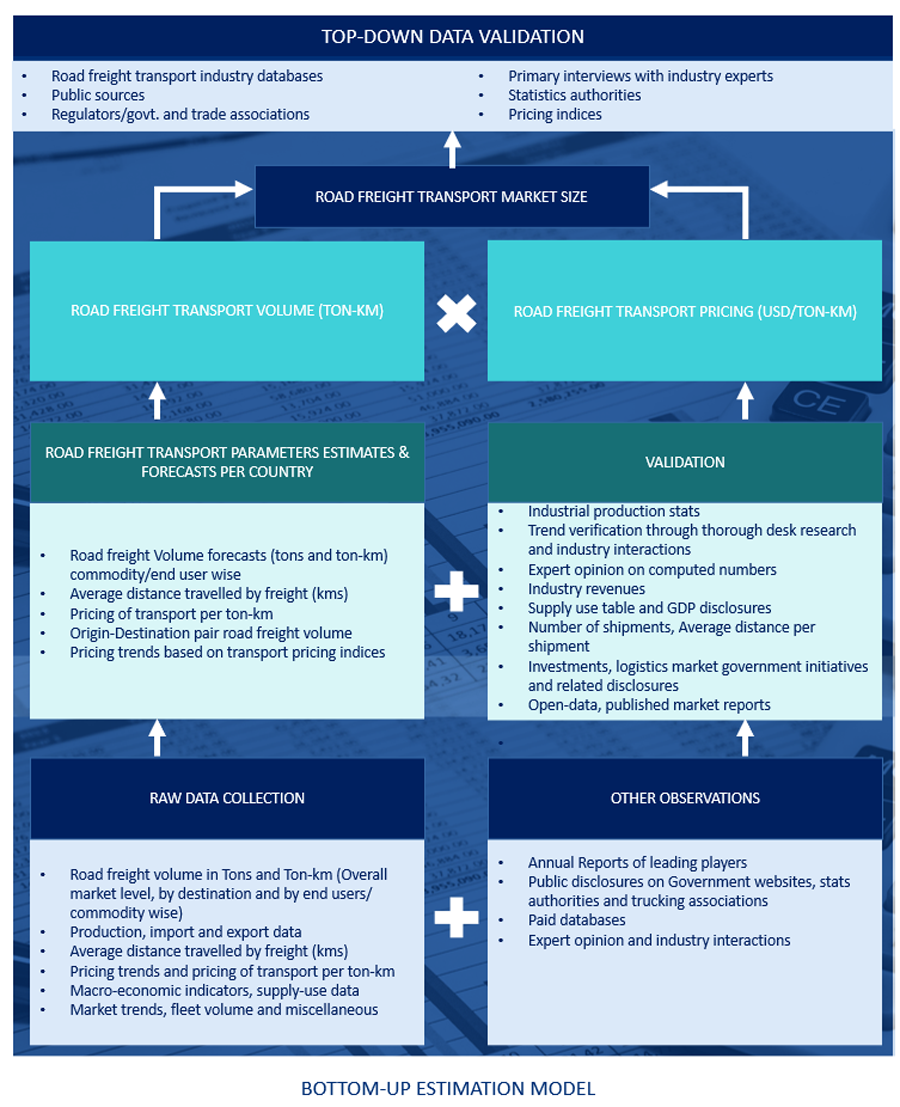 Portfolio of Road Freight Transport Market Solutions
1. MARKET STRUCTURE ASSESSMENT
Macroeconomic analysis
Value chain and supply chain analysis
Regulatory assessment
Technology scouting and assessment*
Sourcing and category intelligence
2. MARKET INTELLIGENCE SUPPORT
Market size and segmentation
Growth opportunities
Market dynamics and new developments*
Go to market strategies
3. COMPETITIVE INTELLIGENCE
Company profiling
Competition assessment incl. market share
Drilled down revenue estimations
Employer value proposition
4. DATA COLLECTION AND ANALYSIS SUPPORT
Data analytics and visualization
Data collection, manipulation incl. web scraping
B2B and B2C surveys and interviews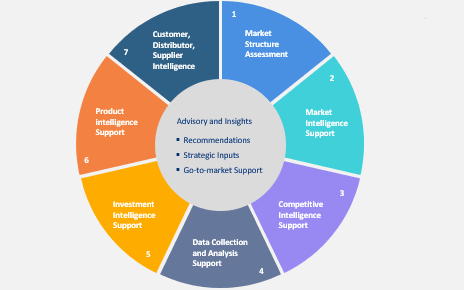 5. INVESTMENT INTELLIGENCE SUPPORT
Project feasibility analysis
R&D and patent analysis support
M&A, JV support - scouting, shortlisting, and target assessment
6. PRODUCT INTELLIGENCE SUPPORT
Import and export intelligence*
Commodity pricing intelligence*
Product pricing intelligence*
Product positioning assessment
New product launch tracker*
Product claims assessment*
Product concept testing
7. CUSTOMER, DISTRIBUTOR, SUPPLIER INTELLIGENCE
Identification of potential partners
Shortlisting/finalization of potential partners
Customer need analysis
Customer's purchase and usage behavior
Customer/partner feedback and satisfaction*
Brand perception analysis*
Key opinion leader insights
*Available as one time effort as well as in the form of periodic updates.
How it works